Sep 5, 2017
We'll be at drinktec 2017, will you?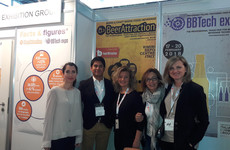 Beer Attraction and the new born BBTech Expo, will be exhibiting at drinktec 2017 strategically representing the Italian know-how and their important role in the industry.
Visit BBTech Expo's booth and meet our dedicated and enthusiastic staff to learn more about the most important and original B2B event in Italy of the industry.
Drinktec: Sept 11-15 2017- Messe München
BBTech Expo' Booth: Hall C1 - Stand 5
- Where we are
- Our stand at drinktec
Don't miss this opportunity to gain new business opportunities and advantages. We hope to see you there! Contact us